Call for Papers: EIER special issue on "Institutional Design and Experimental Economics"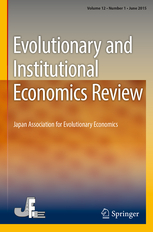 学会誌 "Evolutionary and Institutional Economics Review"では下記のようなspecial issueを企画しています。managing editorは小川です。
興味深い研究であれば積極的に採択を検討したいと考えております。
関連の研究をなされている先生方には、是非とも投稿いただければ幸いです。
転送自由ですので、必要な方がおられましたらご案内ください。
関西大学 小川
ーーーーーーーーーーーーーーーー
Over the past two decades, much research has been undertaken to design institutions to provide economic agents with more desirable choices and to find appropriate nudges. A good example is the design of a robust auction system against the Sakura (or "claque") system) and the discovery of a nudge to encourage energy saving. By exploring these topics, Roth, Thaler, Smith, and Ostrom won the Nobel Prize in economics for their research. Gathering and analyzing data on the actual behavior of economic agents as well as the theoretical contribution to the institutional design and discovery of an appropriate nudge is essential. We can investigate these research topics using natural data, but nowadays laboratory experiments, field experiments, and web surveys are actively carried out . These new methods have advantages and disadvantages, and although none of them is imperfect, each is indispensable for investigating the behavior of economic agents.
The Evolutionary and Institutional
Economics Review (EIER) is planning a special issue on institutional design and experimental economics for which it welcomes academic contributions that focus on the behavior of economic agents in the real world. For this special issue, we are announcing a wide-ranging call for research papers that contribute to the institutional design and the discovery of nudges using the above-mentioned experimental methods. We welcome not only successful cases but also reports of failures, such as introduced nudges and institutions that have produced significantly different results than were expected. We also welcome research papers that identify factors influencing economic decision making. Papers are especially welcome from young researchers.
Contributions on all relevant topics, both theoretical and applied, will be of interest and are welcome. Papers may broadly cover the following areas but are not limited to these example topics.
Institutional design through an experimental method (laboratory experiments, field experiments, and web-based experiments)
Evaluation of an existing institution by an experimental method  Comparison of institutions by an experimental method
Discovery of a new factor that affects economic decision making Please follow the
Due date: September 1, 2018
Expected issue publication date: June 2019